My name is Abdulsalam. I am 28 years old and worked as a journalist in Iraq. I came to Denmark on the 17th of August in 2015. Here in Denmark, I worked for a Danish news channel called "Kanal Frederikshavn". During 6 months I produced different films for them about what is happening in Frederikshavn.
In my spare time I do some activities, such as volunteer work in the recycling shop in Frederikshavn. In the recycling shop I sell clothes, shoes, and different used items. I also help customers and show them what they're looking for and answer their questions.
Sometimes we sit with colleagues in the store and drink coffee and eat cake together. We also talk about news and new laws in Denmark and various other things.
My volunteer work in the shop is a very positive experience for me. It helps me improve my Danish language and prepare me for future work.
My small apartment is about 50 square meters. It contains a bedroom, a living room, a kitchen and a bathroom. I have good neighbors and occasionally invite them to my apartment. We cook and eat together and talk about different things. These nights make me feel happy about living in my apartment, but there is a big difference between living in Denmark and in Iraq.
In Iraq I lived in a big house with my family. In total we lived 12 people in the house. We did a lot of activities together, and we talked and laughed. Here in Denmark I live alone and it is very difficult. Sometimes I feel very sad and I miss my family and my home in Iraq so much.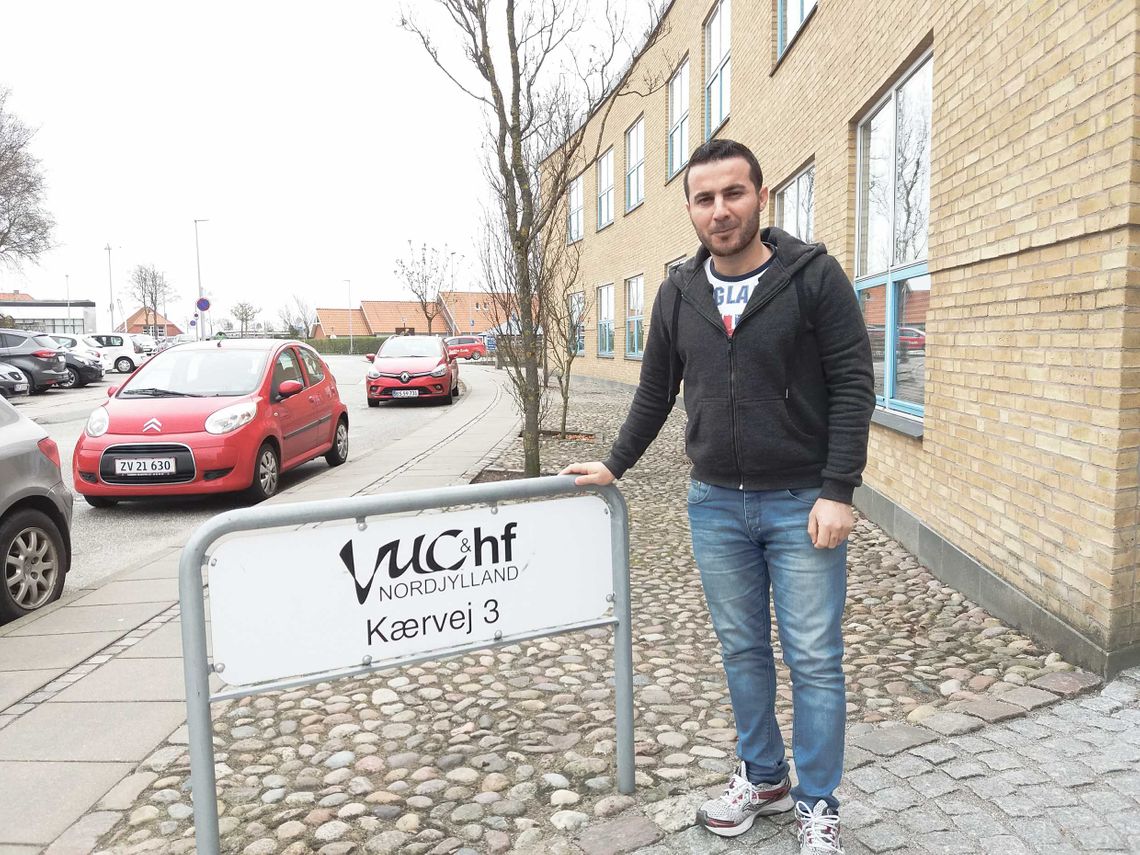 These pictures are from VUC Frederikshavn, where I go to school every day to succeed and achieve my goals and my ambitions in Denmark. The subjects I am taking are Danish, Mathematics and English, and I hope for success in my next exams. I am very pleased to study here and I have many good colleagues from different countries. We help each other out and learn about each other's cultures.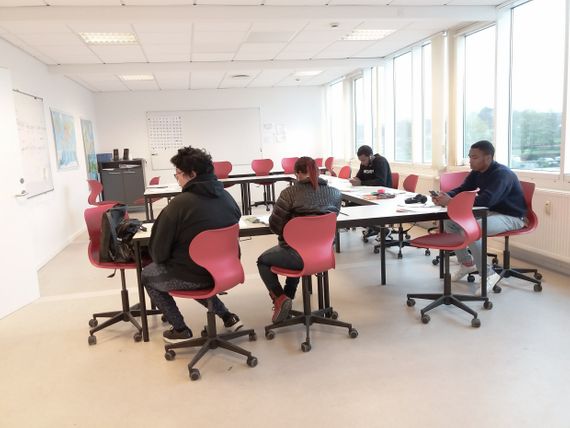 For about one and a half year, I followed the teaching at AOF Language School in Frederikshavn. In the language school I learned to write and speak Danish well. I think the school has been very educational and meaningful to me.
I would like to encourage foreigners to come to Café Danish because it is a good opportunity to become integrated.
I participate in Café Danish every Thursday, where I meet people from many different backgrounds. We spend our time discussing different topics while drinking tea or coffee. In addition, I get help to do homework from someone who has previously been a teacher or from friends who are good at speaking Danish.
On this sunny day, I was with some Danish friends. We visited their cottage, had tea and coffee and enjoyed ourselves. We enjoyed the weather, the sunshine and nature out there.
I think it is exciting and very positive to hear about Danish tradition.
INSIGHT is a series of photo essays taken and written by refugees living in Denmark. With financial support from the Danish fund; Hjælpefonden Journalistgården, Refugee.Today has been able to give 10 refugees the opportunity to show us their lives in Denmark.
The participants in INSIGHT live in various parts of Denmark, from Hjørring to Bornholm, and are of different nationalities and backgrounds. They are all reefugees with a residence permit in Denmark, but first of all they are individuals. In the course of 7 days these people have documented their everyday lives through photography and words.
By letting refugees be in charge of the camera, Refugee.Today offers an insight into a world that is not always accessible to the public. Refugees and integration are heavily disputed topics in Danish society, but rarely are the voices and viewpoints of the refugees themselves visible in the debate.
Through these photo essays the viewer is offered a gaze into everyday life as a newcomer in Denmark. How does the Danish society look through their eyes? How is everyday life as a refugee in a new country taking place? How is the past and present balanced for people who have had to flee their homes?